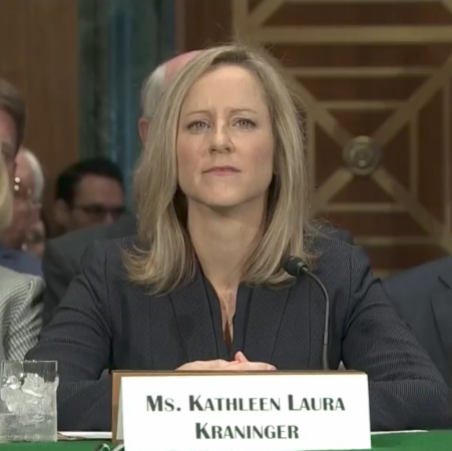 Today, Trump's nominee to be the Director of the Consumer Financial Protection Bureau (CFPB) had a contentious hearing in the Senate Banking Committee, where she refused to answer even the most basic and straightforward questions.  Last November, Better Markets' President and CEO, Dennis Kelleher, talkedwith BillMoyers.com about why the CFPB is so important to all American consumers and families.  Here are the excerpts:
BillMoyers.com: Over Thanksgiving weekend, Richard Cordray, the first and only director of the CFPB, stepped down. But before doing so, he named Leandra English his deputy and, citing rules set out in Dodd-Frank regarding leadership transfer, put her in charge as acting director. President Trump disagreed and named his own interim chief, Office of Management and Budget Director Mick Mulvaney. English filed suit, but her request to block Mulvaney from taking the job was denied on Tuesday by US District Judge Timothy Kelly — a Trump appointee. What's your view of the situation?
Dennis Kelleher: People should not get distracted by the personalities or the legal details of this fight. What's important is that this shows once again that President Trump is Wall Street's most reliable ally and appears to be willing to do virtually anything that the financial industry wants him to do, no matter how much it hurts Main Street and the Americans he claims to care about.
The CFPB is the most successful consumer protection agency in the history of the country, and that's why the financial industry has been trying to kill it. The CFPB has returned about $12 billion to more than 27 million ripped-off Americans. That's $12 billion the industry wanted to keep in its pockets, rather than being forced to return that money to the people they ripped off. Before the 2010 Dodd-Frank law created the CFPB, consumer protection was spread across more than six agencies, and it was not a priority for any one of them. The CFPB was created with one mission: Protect financial consumers. The industry simply does not want an effective consumer protection cop on the Wall Street beat.
Although it's not often discussed, the CFPB is vital also for financial stability, because predatory conduct is often the springboard for financial crashes. That's what happened in the years before the 2008 financial crash. Financial predators ripped off unsuspecting and unprotected mortgage consumers who were victims of egregious fraud. Federal regulators did nothing, and actually stopped state regulators from enforcing their state consumer protection laws. The result was rampant predatory lending, the collapse of underwriting standards, and the creation, packaging, sale and distribution of fraudulent derivatives and structured products — all of which inflated the subprime bubble that crashed the financial system. The risk of that happening again (undoubtedly in a new and different form) is virtually assured as the Trump administration, on behalf of the financial industry, appears committed to crippling the CFPB and leaving consumers once again unprotected.
BillMoyers.com: What do you think we can infer from his choice of Mulvaney as the interim chief — someone who once testified before Congress that he doesn't like the fact that the CFPB exists?
Kelleher: Showing his true beliefs, the president has appointed someone to head the CFPB who has attacked it and voted to kill it. We don't have to infer what Mr. Mulvaney will do as the acting director of the CFPB, because as a congressman, he called the CFPB a "sad, sick joke." Only someone who believed the biased talking points of the financial industry could make such a statement. Only a president who wanted to destroy an agency would put such a person in charge of it. That is exactly what the president has done here, with the clear intent that Mr. Mulvaney will prevent the CFPB from doing its critical job protecting consumers from financial predators.
While the champagne corks are popping on Wall Street and at its lobbyists' offices in Washington, DC for Mr. Mulvaney's appointment, it is a sad day for everyone else and for the country. The CFPB was created to stand up for anyone who has a bank account, credit card, debit card, car loan, student loan, home loan, payday loan, credit report or any other financial product of any type — which is virtually every single American — and crippling it is going to harm every one of those people, who will once again be left largely defenseless against gigantic financial institutions and financial predators.
Now, Trump has nominated Mr. Mulvaney's deputy to become the permanent Director of the CFPB.  Based on her performance at the Senate Banking Committee today, the industry is going to be very happy with this Mulvaney-like nominee and America's financial consumers are going to once again be victimized without a government ally.