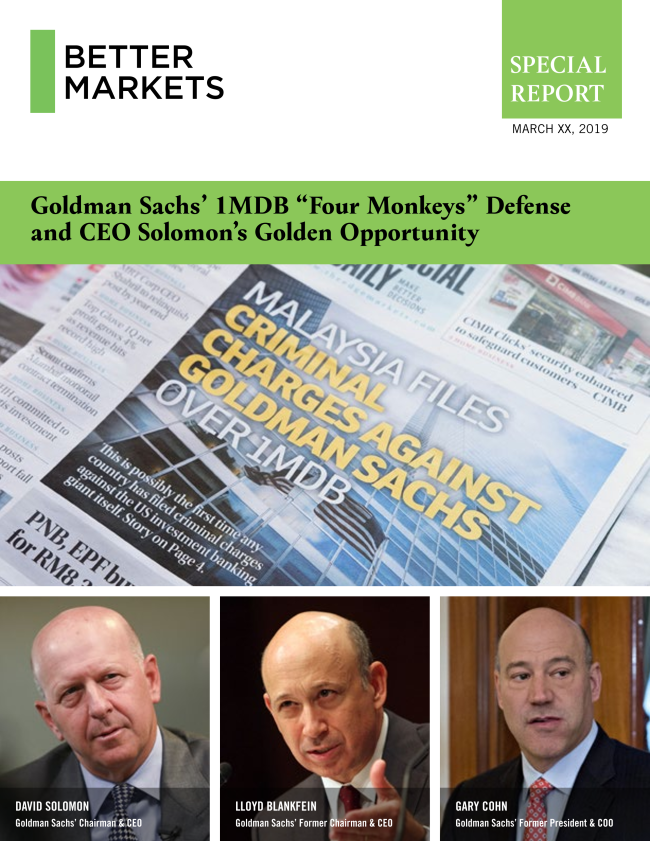 Last week, the Financial Times exclusively reported that the Department of Justice is considering criminal charges against Goldman Sachs for its involvement in the 1MDB crime spree. If you haven't been following it, 1MDB refers to a Malaysian investment fund that was intended to benefit the people of Malaysia, but instead, was looted of an estimated $10 billion, including most of the proceeds of bond offerings by its banker, Goldman Sachs, which pocketed a $600 million fee.
Goldman Sachs is reportedly claiming that it shouldn't be charged because a couple of its partners went "rogue" and fooled all of its smartest, highest paid bankers in the world; all of Goldman's risk, compliance, legal and audit systems and controls; and all of Goldman's management, including then-CEO Lloyd Blankfein, then-COO/later President Gary Cohn and then-co-head of investment banking/now CEO David Solomon. Better Markets' Report, however, details the bank's extensive, multi-year involvement with the 1MDB fund and why Goldman's defenses lack merit.
"Without Goldman Sachs as the 1MDB fund's banker, underwriter, advisor and validator, the $10 billion looting of the Malaysian people might never have happened. But, 1MDB is not just about theft, a global money laundering scheme or a financial scandal; it's about the corruption and looting of an entire country by enabling the reelection of an allegedly corrupt politician, when he crushed his political opposition and at least one prosecutor was brutally murdered," Mr. Kelleher said when the Report was released.
The Report characterizes Goldman's defenses as a "four monkeys" defense of "see no evil, hear no evil, speak no evil, and keep all the money" which the Report makes clear should be rejected.
A summary of Report highlights can be found here.  The full Report can be found here.