Axios/MSM Bizarrely Omit Wall Street from Stories on Capitalism and Economics
Mike Allen in Axios had a timely and important lead piece on "Capitalism's Comeuppance" in his AM Newsletter on December 30, 2018.  He pointed out "One of the most important trends likely to drive the 2020 presidential race: A growing disillusion with capitalism as practiced, and a coming struggle over how to recast this pillar of the Western order."  He correctly notes that "what we all realize by now: Flaws in the system – including forgetting about so much of society – are largely to blame for widespread disaffection with established institutions, leaders and answers."
But, bizarrely, rather than pay any attention at all to recent history, Mike (and by citation Axios' Felix Salmon) then list "four decades" of this and "four decades" of that.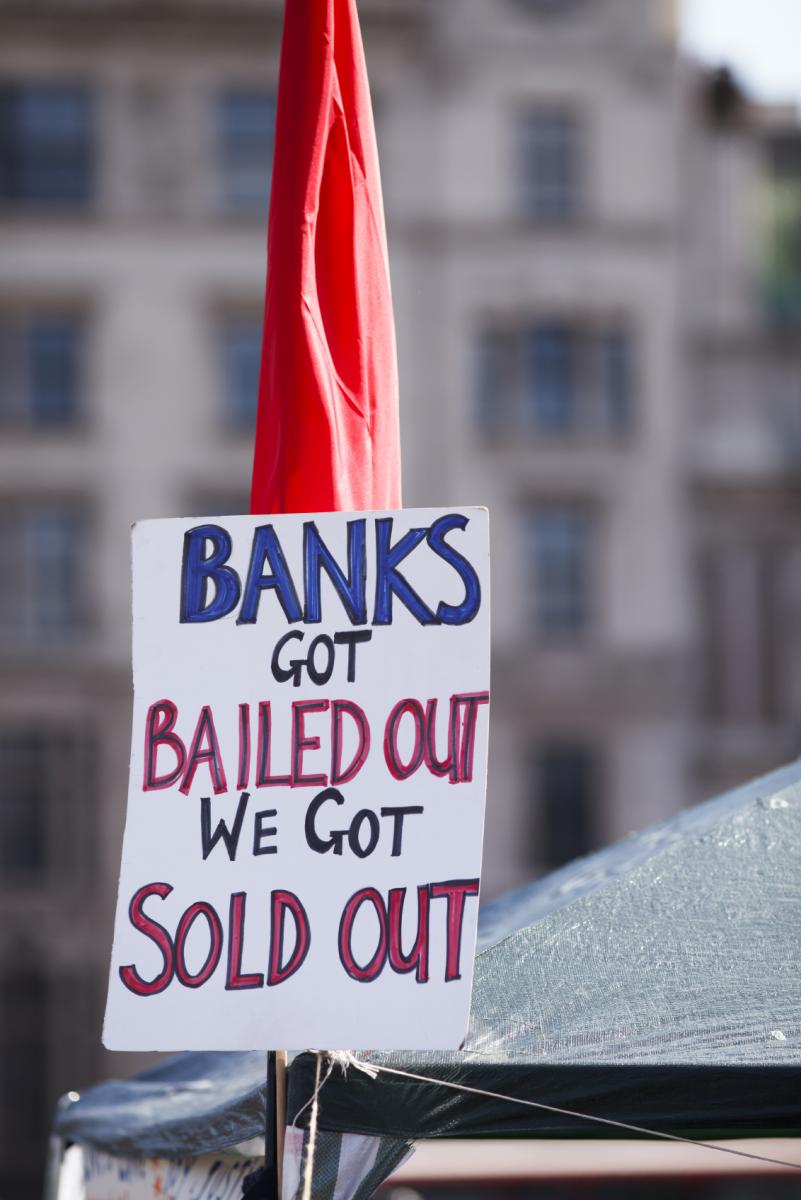 There is no dispute that there have been four decades of flat wages, productivity gains, growing inequality, etc.  However, all of that was made exponentially worse by the unmentioned financial crash just ten years ago and the economic devastation it caused and is still causing.  Those events are burned into the current memories of tens of millions of Americans, including the 27 million who were un- and underemployed (the U6 rate) in October 2009 and for years thereafter as they struggled to recover.  Because many of those 27 million were heads of households, the U6 rate alone impacted more than 50 million Americans – in 2009-2010.
Most of them have still not recovered as starkly illustrated by two recent Fed studies: one shows that 90% of Americans are worse off economically today than they were in 2007 by an astonishing 17-35%; the other shows that almost 50% of all Americans could not come up with $400 for an emergency.  Add to that more than $4 trillion in non-real estate personal debt, including $1.5 trillion in student loan debtmostly owned by people who went into debt to improve their lives (which were not improved often due to worthless certificates or "diplomas" from predators), and it's clear almost all Americans are living from paycheck to paycheck, which don't even make ends meet (hence the ballooning personal debt).
On top of that, those Americans are working harder and harder for less and less while they see the wealthiest getting bailed out, tax cuts, sweetheart deals from Washington, and much more.  The disparity is stark and visible for all to see.
Those are just a few of the many middle class-crushing statistics and facts that have caused pervasive economic anxiety and despair across the country.  Those conditions are eroding the pillars of democracy, civility and, yes, capitalism.  So while it's important to mention the long term trends, it is at least equally important to include the much more recent, catastrophic visible and visceral economic circumstances that threaten our politics, social cohesion and economic system.
Yet, that's almost never reported or even mentioned when discussing capitalism and its current lack of support, as evidenced by Mike Allen's Axios piece and Felix's writings as well.  Why is it that "reporting" about poor economic conditions and economic anxiety talk about what happened four decades ago, but not the more stark and likely more impactful events over the last few years?  We wanted to get Mike's thoughts on this so we emailed him, but unfortunately, once again he didn't respond.