View the newsletter online here.
Hi Friend,
2023 has already been a crazy busy year for Better Markets with our work on the Silicon Valley Bank crisis, extensive comment letters on market structure proposals by the SEC, and a wave of timely reports and fact sheets. Thankfully, much of our work has been recognized by others and indicates how it, made possible by our generous supporters, is helping to shape the debate in Washington and across the globe.
John Reed Stark, former Chief, SEC Office of Internet Enforcement, called our January Fact Sheet on crypto and the SEC "an extraordinary must read" and "required reading for anyone involved in the crypto-ecosystem." Robert Armstrong, an influential columnist at the Financial Times, wrote of our recent report on the Federal Reserve and risk "It is useful when the case against the Fed is framed intelligently by a very reputable voice…Better Markets, did just that."
This month it was also announced that for the third year in a row, Dennis was named to the Washingtonian's list of most influential people in Washington, D.C.
Meanwhile, Nomi Prins, an author, financial historian, and respected thought leader on financial issues, called Better Markets work "a true service to the general public. Navigating the real impact of policies…and making analysis that's smart accessible and actionable."
I highlight just some of the recent praise to come our way because when it comes to complex financial issues it's not enough to just be right. It also matters that we are able to cut through the noise with our work and reach thought leaders, policymakers, and the general public. The Better Markets team's timely and thoughtful work is doing just that and helping to shape the debate on the issues that matter to Main Street.
Best,
Anton
Anton Becker
Director of Communications, Better Markets
We applauded the Financial Stability Oversight Council (FSOC) for announcing a financial stability framework to address the full range of financial risks that can threaten the country with catastrophe, and proposing a rule to rewrite the guidelines to enable the designation of systemically significant nonbanks.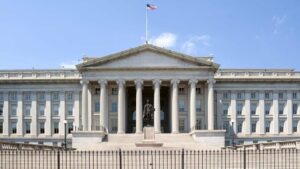 The meme-stock trading frenzies highlighted longstanding market integrity and investor protection issues. The SEC has proposed reforms to address these issues and Better Markets' comment letters examined many nuanced and complex provisions that have an opportunity to make our markets substantially fairer & more transparent to the average American retail investor.
Better Markets submitted an amicus curiae or "friend-of-the-court" brief in Robinhood Financial LLC v. Galvin in the Supreme Judicial Court for the Commonwealth of Massachusetts. This case is yet another legal action related to Robinhood's long-running efforts to avoid accountability to its retail clients. Better Markets fully supports Massachusetts and the investor protections the state has in place that Robinhood is challenging, proving again it's no Robin Hood. In its brief, Better Markets demonstrated that the state rule doesn't conflict with the SEC's weak counterpart known as "Reg BI" but rather supplements it for the benefit of investors
While the SEC has faced intense criticism from the financial industry and its allies in Congress, the agency has done important work to protect investors and ensure confidence in our markets. The SEC has done this despite the scope and breadth of its responsibilities increasing dramatically over the last decade. At the same, the agency's funding has failed to keep pace. To continue overseeing the growing and ever-more complex markets, and to address numerous longstanding problems, the SEC must have additional resources at its disposal.
Stephen Hall, our legal director and securities specialist, spoke at the CFA Institute Climate Risk and Returns Conference this month. Steve's panel explored how public policymakers, corporations, the investment community, and individual citizens all must work together to address climate change. He explained why the SEC's rule proposals on mutual fund and climate risk disclosures are so important to protect investors from abuses in the burgeoning ESG investment market and to instill investor confidence so that the ESG movement can fulfill its potential.
Better Markets in the News
"Taking home tens of millions of dollars for very high-risk trading and investment incentivizes people to do the wrong thing. Everyone has known about this forever. And yet we've done almost nothing about it."
– Dennis Kelleher in The Washington Post

Activities at the Regulatory Agencies
| | |
| --- | --- |
| As Nonbanks Grow in Number and Market Power, the CFPB's Proposed Nonbank Registry Will Help Regulators and Investors Identify Bad Actors | |
| Federal Trade Commission's Proposed Ban on Non-Compete Clauses in Employment Contracts Will Unshackle Workers | Expanding Private Markets Undercuts Public Markets, Investor Protections, and Capital Formation |
Legal Update                                                                          Hill Update
| | |
| --- | --- |
| Each month our legal team outlines some of the top cases we're keeping an eye on, the Amicus "Friend of the Court" Briefs we have filed, and why everyone with a bank account, credit card, mortgage loan, or retirement loan should be interested in those cases. | Our government affairs team closely tracks important legislation and works with members of Congress, their teams, and Congressional committees to ensure financial reform issues are a priority. |
In Case You Missed It
Better Markets has been releasing videos helping to explain the complex issues surrounding the Silicon Valley Banking Crisis. You can find the videos on our
YouTube page
 and 
Twitter account
.
What We're Reading